SJE-Rhombus is a leading manufacturer of reliable, trouble-free liquid level controls for the water, wastewater and sewage industries throughout the United States and Canada.
SJE-Rhombus offers a wide variety of control products for residential, commercial, municipal, and industrial markets. From control panels utilizing embedded circuit board technology, to complete control and monitoring systems designed and built to individual specifications, SJE-Rhombus represents the most reliable integration of engineering and manufacturing capabilities in the industry.New product designs endure extensive in-house and field testing before submittal to recognized independent laboratories for safety testing and approval. Each product is constructed of materials of the highest quality with expert workmanship and delivered in responsive lead times. This commitment to quality ensures you a dependable, trouble-free product. SJE-Rhombus is so confident in the superior quality and performance of our controls, that nearly every catalog product leaving the factory is backed by a five-year limited warranty.
Controller lines
Although SJE-Rhombus manufactures a wide variety of controllers for the wastewater industry, there are a couple of models that fit the residential wastewater treatment needs in the Southwest: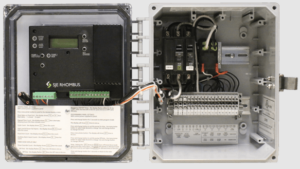 The EZ Series® – Combining circuit board technology and easy operations, the EZ Series can control single or duplex pumps, features a digital display for programming and monitoring, and can be configured for time or demand dosing in the field.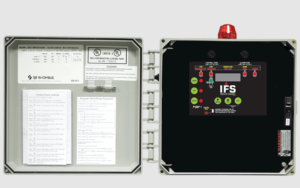 IFS Series® Drip Control Panel – This version of the IFS Series will control a simplex pump and drip dispersal components. It features rest for standard time, rest for peak enable time, spin filter flush time, field flush time, filed drain time and low alarm activation.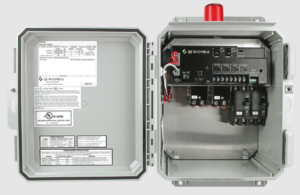 Model 122 – The Model 122 control panel is designed to control two alternating single phase pumps and provides override control should either pump fail. If an alarm condition occurs, an alarm switch activates the audio/visual alarm system. This simple panel is ideal for demand-dosed lift stations, like would be found to pump wastewater from the structure to the treatment system.
Cord Seals
Cord Seals provide strain relief and a liquid-tight seal in terminal adapters. PVC plugs included for unused cable positions. Available in both 4-Hole and 6-Hole seals.