Superior Wastewater Solutions!
SeptiTech has designed affordable and sustainable wastewater treatment products for properties not hooked up to a public sewer system. Relentless research, development and continuous product improvement goes into producing the most effective, reliable, highest value and owner-friendly wastewater treatment systems in the industry.
Offering simple, low-cost and robust treatment solutions, the SeptiTech® STAAR™ (Smart Trickling Anaerobic/Aerobic Recirculation) Filter Systems are a low-energy treatment option using an anaerobic-aerobic sequence (AAS) bioreactors.  The primary anaerobic pre-treatment tank settles, clarifies and manages the sludge return, then followed by a secondary aerobic treatment process.
The residential and commercial SeptiTech STAAR Filter Systems are environment-friendly, regulatory-approved and preferred for private, business, and government applications. With exceedingly stringent Nitrogen Removal standards, these advanced wastewater treatment systems (AWTS) utilize an award-winning Trickling Filter Technology and has a successful track record from 100 gpd – 150,000+ gpd.
SeptiTech STAAR Filter Systems are designed for residential strength wastewater in eight specific sizes based on daily wastewater usage. Finding the right system for your project can be as simple as knowing the residential flow from the source of the wastewater.
They are also perfectly-suited to rural communities, holiday resorts, mining facilities, factories, and smaller municipal projects, small-scale municipal wastewater treatment solutions to offer reliable and low maintenance designs, durability and energy efficiency.
SeptiTech Advantages and Performance
SeptiTech STAAR Filter Systems are designed for residential strength wastewater sized according to number of bedrooms/daily wastewater usage.
The simple, automatic, reliable equalization and clarification process of the STAAR Filter Systems treat high organic loads that integrate with other technologies and accessories.  The "Smart" controllers recognizes situations dealing with peak, low, intermittent, or no flow conditions to either slow, stop, or restart the system and include many additional features to further enhance quality and dependability.
The low operating cost combined with low power requirements STAAR systems incorporate a dual purpose Recirculation Pump that sprays wastewater over unsaturated media filter and draws outside air in through use of Venturis. The "Smart" biological trickling filter technology also maintains low levels of Nitrate-N. Treats from 100 gpd to 150,000 gpd with all below-grade components that fit in readily-available concrete, plastic, or fiberglass tanks, it's just plain smart for on-site, subsurface discharge and other residential and commercial wastewater treatment applications.
Biological Trickling Filter Wastewater Filter System
• Simple, Automatic, Reliable Equalization and Clarification Process
• Treats High Organic Loads
• Operating Flexibility and Control that Integrates with Other Technologies
• Low Operating Cost with Relatively Low Power Requirements
• Recirculation Pump is dual purpose – sprays wastewater over treatment media & draws outside air in through use of Venturis
• Return Pump sends dead bacteria flock back to head of primary septic tank & recycles Nitrified wastewater to anoxic zone which produces less sludge than suspended growth systems
• All below Grade Components with No Onsite Concrete Work Required in a very Small Footprint (ex. 90,000GPD can fit 1/3 Acre)
• Discharge Pump discharges treated wastewater to disposal field(s) up to 24 times a day
Finding the right size… Designing Your STAAR Filter System
On average each bedroom is assigned a value for the number of GPD of wastewater it will contribute into the overall treatment system.
• Local Regulatory Guidelines
• Effluent Requirements
• Number of Bedrooms/Persons of occupancy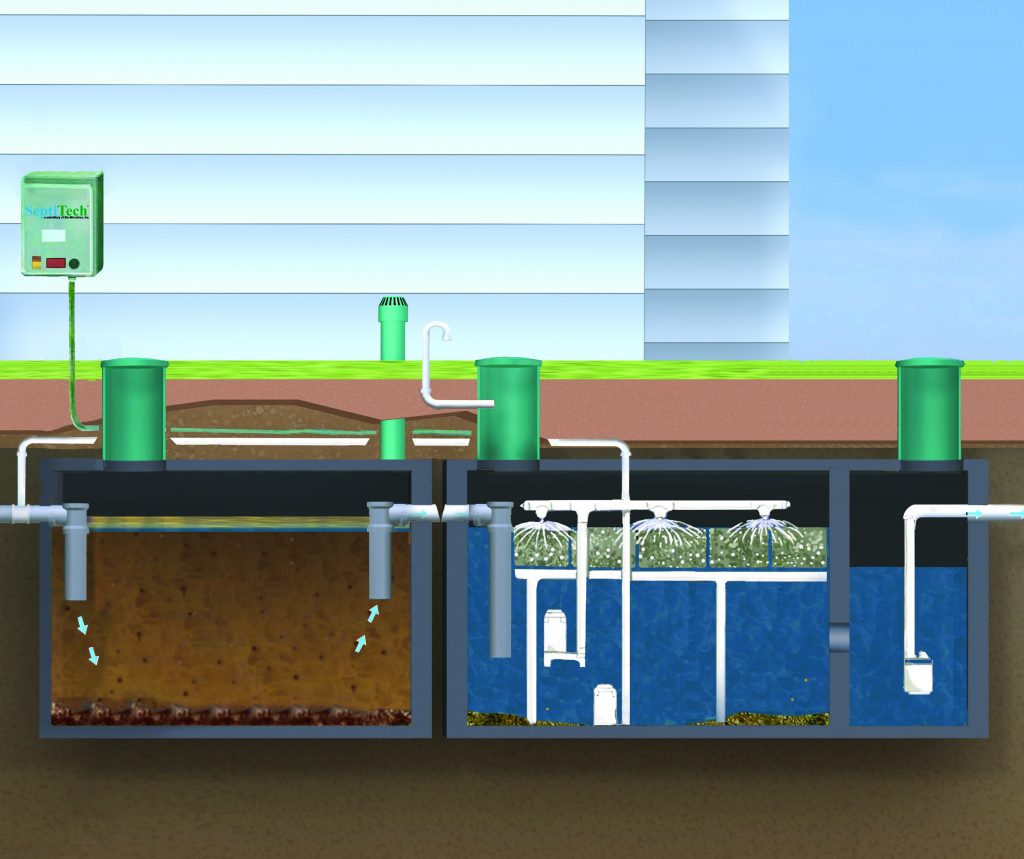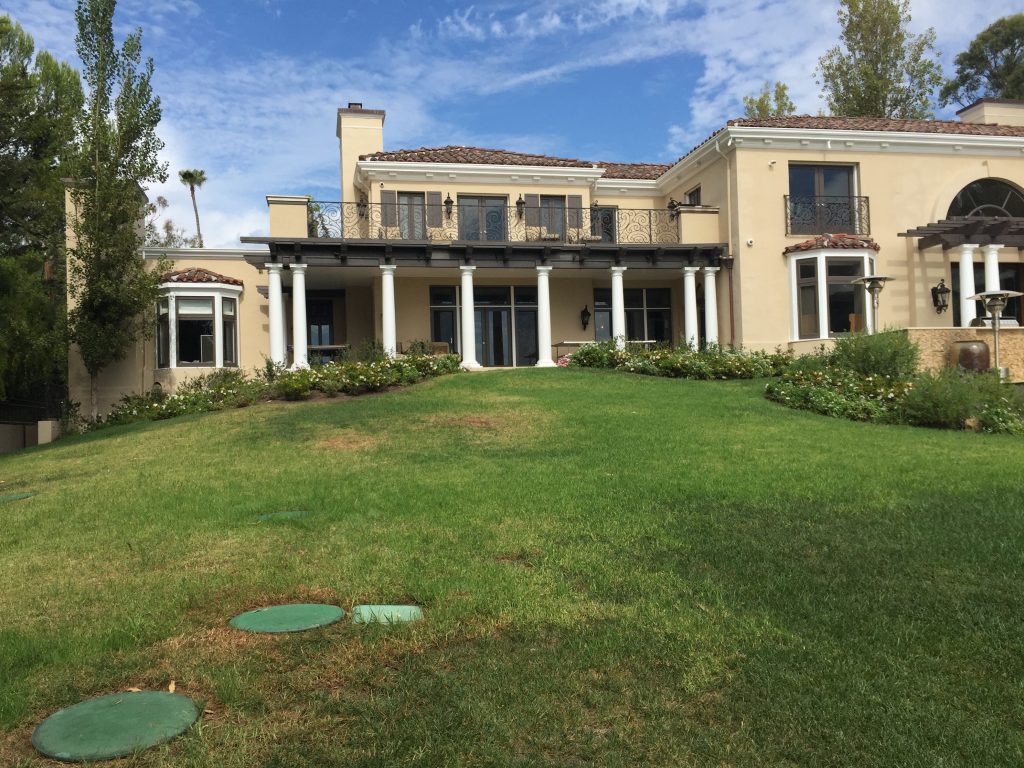 Our products are certified to the highest national and international standards in our industry. If you require additional certification marks, etc, please e-mail your request to sales@biomicrobics.com.
USA and International Product Certifications
The list below is a summary of a few certifications received for the products of Bio-Microbics:
NSF/ANSI Standard 40, Class 1 Certified-Standard 40 is for residential wastewater treatment systems having rated capacities between 400 gallons (1514 Liters) and 1500 gallons (5678 Liters) per day. Approved products have completed a six month (26 week) test where wastewater of required strength is introduced to the system at its rated capacity. Stress sequences are included to simulate wash day, working parent, power outage, and vacation conditions. The effluent criteria required is based on the U.S. EPA secondary effluent treatment requirements for municipal treatment facilities.
To visit the NSF Standard 40 Listing Page for SeptiTech, go here
NSF/ANSI Standard 245 (Nitrogen Reduction) Certified– Technologies testing against Standard 245 must either be Standard 40 certified or be evaluated against Standard 40 at the same time an evaluation is being carried out for Standard 245, as both tests can be run concurrently. The standard is set up to evaluate systems having rated capacities between 400 gallons and 1500 gallons per day. A treatment system must meet Standard 40 effluent criteria as well as reduce the influent TKN by at least 50%.
To visit the NSF Standard 245 Listing Page for SeptiTech, go here
U.S. EPA–ETV (Environmental Technology Verification) – validates the performance of technology that may improve the protection of the environment. – SeptiTech®, Report No. 02/04/WQPC-SWP
Independent Third-Party Testing
Verification programs/locations in which a Bio-Microbics FAST®, BioBarrier®, or SeptiTech® system was installed for analysis of performance:
NSF International testing and evaluation for Standard 40 and 245
US EPA Environmental Technology Verification Program (ETV)
Massachusetts Title 5 "Innovative and Alternative (I/A) System" Technologies Listed under "General Use Permit for Nitrogen Reduction", "Provisional Use," & "Remedial Use"
Florida OWNRS (Onsite Wastewater Nitrogen Reduction Study) Phases I and II
New Mexico State/New Mexico University
University of Rhode Island
Buzzards Bay, MA
Ventura County, CA
La Pine, OR
Burnett, WA
Recent Business and Technology Awards
2012 President's "E" Award (USA) for Excellence in Exports
2011 Kansas Governor's "Exporter of the Year"
2011 Frost & Sullivan Technology Innovation Award (Decentralized Commercial Outlets)
2011 New Product of the Year (Recycling) – BioBarrier® MBR System – Environmental Protection Magazine (EPOnline)
2010 North American Technology Innovation Award (Water/Wastewater) – Frost & Sullivan
2009 Exporter of the Year Award, Environmental – ThinkGlobal / Commercial News USA (Official publication of the US Dept. of Commerce)
2009 Technology Merit Business Achievement Award, Water/Wastewater – Environmental Business Journal (EBJ)
2000 U.S. EPA Environmental Technology Innovator Award – U.S. EPA, Region 1 – SeptiTech® Technology